Page 6/7 of the 1972 Chouinard Catalog
---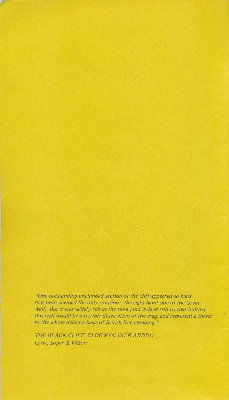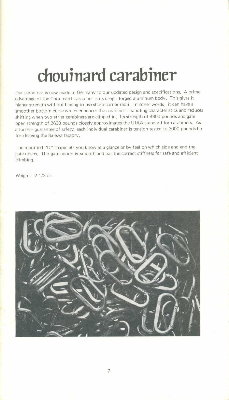 Click to enlarge image
---
| Previous | Main | Next |
---
Page 6: A quote from The Black Cliff, Clogwyn Du'r Arddu, Crew, Soper & Wilson.
"One outstanding unclimbed section of the cliff appeared so hard that bolts seemed the only solution: the right hand side of the Great Wall. But it was widely felt at the time (and indeed still is) that bolting this wall would be a terrible desecration of the crag, and represent a threat to the whole delicate basis of British free climbing."
Page 7: A description of the Chouinard Carabiner.
---
Home | News | Climbs | Interviews | Service/Links | Features | Hall of Horrors
---
Copyright &copy: 2002, RAHutchins
Revised: May 30, 2002
Corrections/Comments: bob@climbaz.com
URL: http://www.climbaz.com